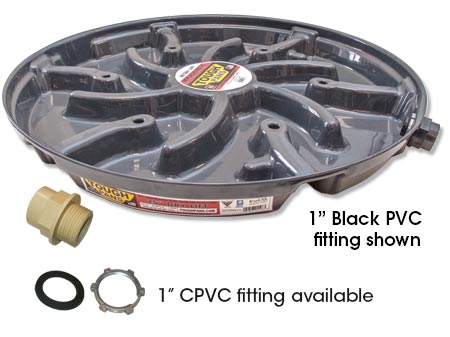 Alliance Manufacturer Representatives is excited to announce the addition of VizCo US (VizCo) to the Alliance family of product lines. Effective immediately, Alliance now represents this line throughout Texas, Arkansas, Oklahoma, Louisiana and Mississippi.
After nearly a decade of industry leadership in the manufacturing and distribution of condensate sensors and pans, VizCo brings the same innovation and leadership with their new brands - Tough™ Pans, Bulldog Alarms and AquaGrip Pipe Clamps. VizCo has also introduced an improvement on their polymer formula, secureFLX®, tailored specifically for use with gas hot water heaters. All products are backed by VizCo's own proven industry leading innovation, customer service and support.
VizCo's Tough™ Pans are offered in three series. The Contractor Series pan line is designed for jobs where you can't sacrifice quality and every penny counts. The Pro Series pan line offers the toughest water heater drain pan you can buy. The Dry Lift, true to its name, uses built in risers to lift tanks 1.5" inches extending the tank life and making connecting to the drain valve effortless. All VizCo pans are designed for and ICC approved for gas or electric water heaters. Most importantly, each pan is made from VizCo's secureFLX® material, the safest, strongest and most innovative polymer on the market.
VizCo's Bulldog Alarms is the only water heater leak alarm designed exclusively for water heater tanks and is easy to install within seconds. The AquaGrip Pipe Clamp secures water lines quickly and eliminates the need to cut wood or use expensive pipe braces. Simply lock the clamp on the drain pipe and snap water lines in place – no need to attach pipes to studs!
For more information on this line, contact your Alliance Sales Representative today or visit www.vizco.com!